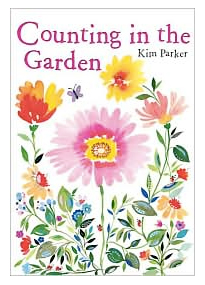 Counting in the Garden, Kim Parker's critically acclaimed first picture book, has received rave reviews and endorsements from The New York Times, PBS.org, Barnes and Noble, Publishers Weekly, Kirkus Reviews, School Library Journal, NY1, Playthings and Cooking with Paula Deen.

Counting in the Garden brings the richly colored floral designs of award-winning designer and artist Kim Parker to the world of children's publishing. This visually stunning concept book invites readers to search for hidden dreamlike creatures within Kim's beautifully painted garden scenes. This feast of color and design brings new meaning to patterns, colors and counting for children of all ages.

Counting in the Garden is the inspiration for the designer's new children's label, Kim Parker Kids ®. This new designer product line includes a plush collection produced by Yottoy which features plush toys, backpacks and hand puppets. The Counting in the Garden wall art collection is produced by Editions Limited, and features Kim Parker's illustrations from the book. New collections for the brand are currently being developed.
The new Counting in the Garden Deluxe porcelain tea set from Kim Parker Kids ® debuts this holiday season at NeimanMarcus.com and Yottoy Productions. Beautiful florals on real porcelain are perfectly sized for small hands. This charming tea set includes a teapot, sugar bowl, creamer, four teacups and four plates. All are nestled securely in a brightly printed hat box with a luxurious pink satin lining. The colorful hatbox is adorned with the illustrations from Kim Parker's critically acclaimed first picture book, Counting in the Garden. A twisted satin cord handle makes this tea set perfect for toting to a tea party for four!